SIMPLIFIED DIGITAL EVIDENCE MANAGEMENT
MANAGE ALL YOUR DIGITAL EVIDENCE IN ONE CONVENIENT LOCATION WITH THE PUMA MANAGEMENT SOFTWARE
Audio, Photos and Videos
The PUMA Management Software provides a powerful, secure, and easy-to-use digital evidence management system for the storage, retrieval and management of digital audio recordings, digital photos and digital video files.
Simple to Use
Key to the success of PUMA is its ability to provide officers an easy platform to upload their digital files, add file information such as case number, subject name, or notes, and store the content securely. With various search options, files can be easily retrieved for playback or exported to CD/DVD.
Fits Every Agency's Size and Budget
The PUMA Management Software is scalable; offering add-on modules that address the specific needs of your department and the best and most cost effective storage solution for your agency.
PUMA MANAGEMENT SOFTWARE
Digital Evidence Management for Law Enforcement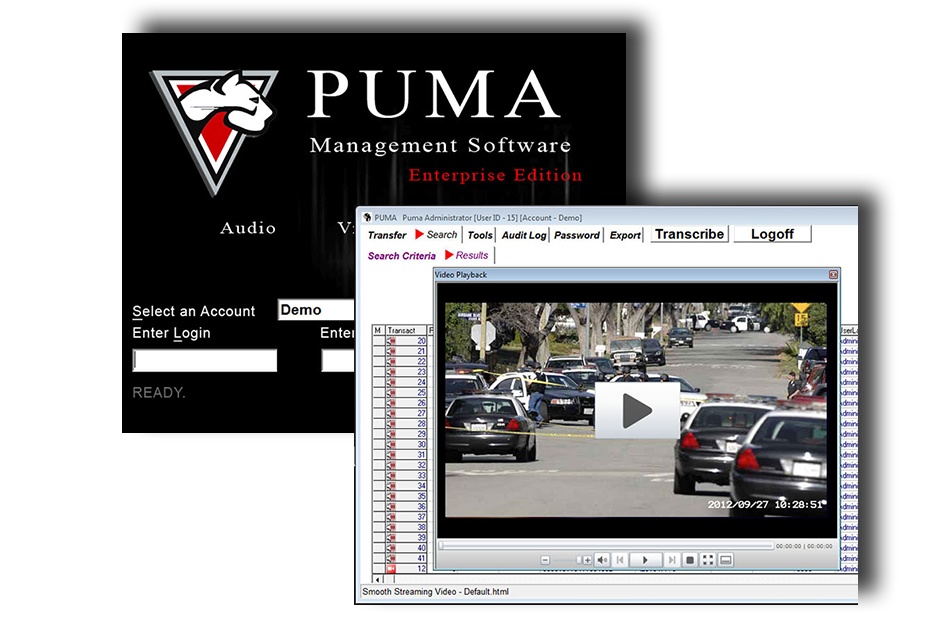 Manage all your Digital Evidence in one convenient location
The PUMA Management Software delivers an integrated network-based solution for your entire organization. With PUMA, digital evidence files are managed by a centrally located repository, providing easy access to your digital evidence, 24 hours a day, 7 days a week and 365 days a year. With PUMA, your department will capitalize on a cost-effective, secure, onsite digital evidence solution.
Secure
With departments having different access/security concerns, PUMA has designed multiple levels of security and access rights based on agency-defined security roles. PUMA also includes technical security measures to prevent unauthorized access to data such as file and password encryption (256 bit).
Clean Chain of Custody
Digital Evidence management is critical to the outcome of criminal prosecutions. The PUMA Management Software provides a secure chain of custody for the management, administration and handling of digital evidence.
Simple
Simplicity is key to the success of PUMA Management Software. By using the same simple and intuitive user-interface to manage all digital files, your department will save time, money and increase officer productivity.
Intuitive Searches
Search and retrieval has never been easier. With PUMA's simple search interface, officers, detectives and/or administrators have quick and easy access to the digital evidence they need.